Hi, I'm Cate! I'm the multi-award-winning, bestselling author of The Bodyguards of L.A. County series and The Carter Island Trilogy.
I'm also a frequent traveler, flower lover, amateur picture taker, avid baker, and proud mom of two humans and a St. Bernard.
Unlike many authors, I never had dreams of storytelling from a young age. In all honesty, reading was never my thing, and writing was something I left for school assignments. But for as long as I can remember, scenes and images constantly played through my head in movie-like detail. Ten years ago, I finally started jotting down my ideas, and a new career was born. Now, I spend most of my days creating dark, sexy adventures for my eager readers to enjoy. I hope you'll enjoy them, too.
Happy Reading!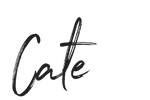 "I always find the process of writing fascinating—imagining words and thoughts into subsistence that had once only existed in my head. Oftentimes, the undertaking is daunting. Months of research, careful plotting, planning, character development, and revising go into every page. There are many moments of doubt and worry. On occasion, there's even a triumph or two. But, finally, you type The End and you realize you've created a miracle of sorts—a story to share with your eager readers who are always waiting for what's next."