Hailey's Truth
Book Three In The Bodyguards Of L.A. County Series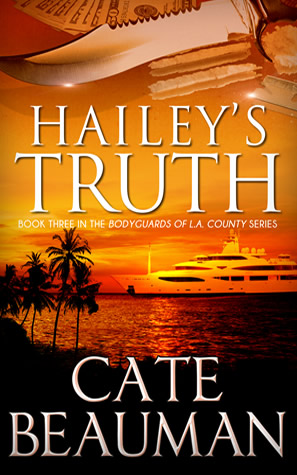 Loyalty can cost you everything…
Hailey Roberts has never had it easy. Despite the scars of a tragic childhood, she's made a life for herself. As a part-time student and loving nanny, she yearns for a family of her own and reluctant Austin Casey, Ethan Cooke Security's best close protection agent.
Hailey's past comes back to haunt her when her long-lost brother tracks her down, bringing his dangerous secrets with him. At an emotional crossroads, Hailey accepts a humanitarian opportunity that throws her together with Austin, taking her hundreds of miles from her troubles—or so she thinks.
What starts as a dream come true quickly becomes a nightmare as violence erupts on the island of Cozumel. Young women are disappearing; community members are dying—and the carnage links back to her brother. As Austin struggles to keep Hailey's past from destroying her future, he's forced to make a decision that could turn her against him, or worse, cost them both their lives.
*NOTE: While reading the series in order is recommended, it is not necessary. Each story is a stand-alone title featuring new primary characters with limited overlapping secondary characters.*
"There was never a dull moment! It kept you captivated throughout! I highly recommend this book to anyone looking for suspense and romance all in one good read!"
–Karen Spieler